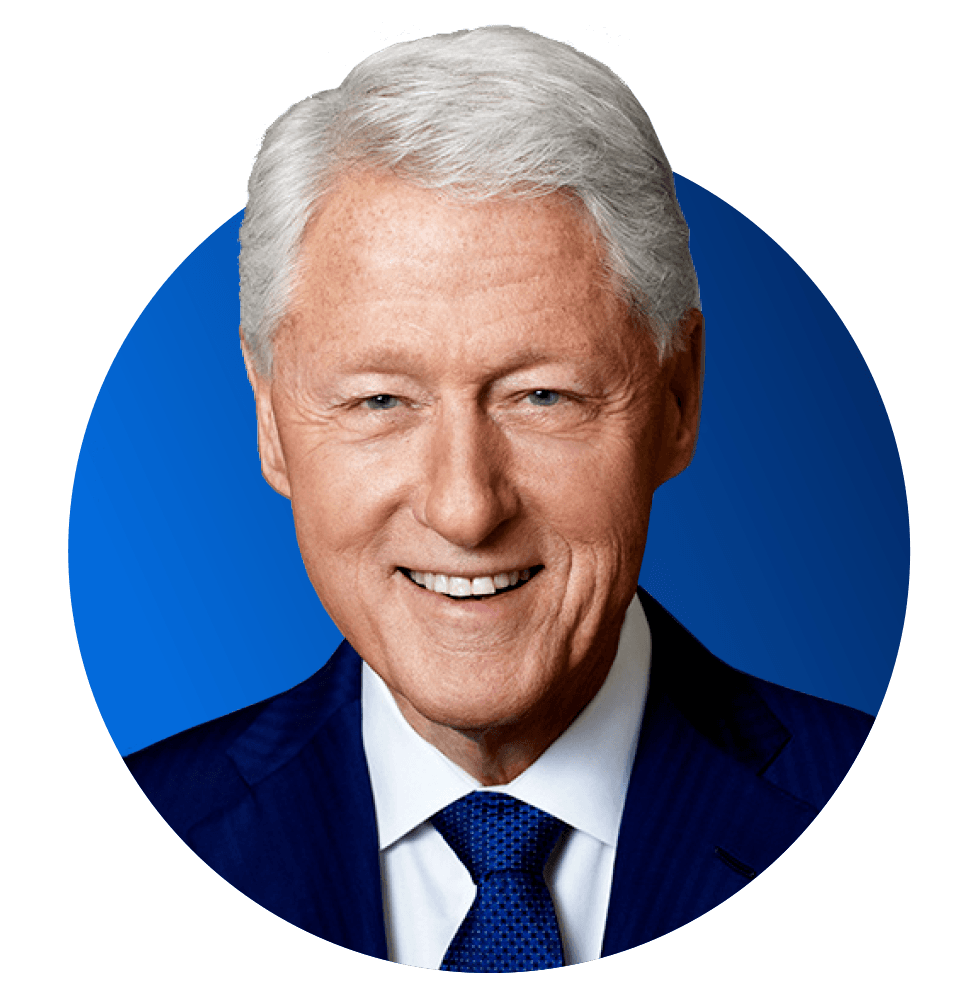 A letter from President Clinton
Dear Friend,
It's hard to believe that it's been 20 years now since I left the White House and began my work with the Clinton Foundation. After decades in public service, I thought there were many areas where I could continue to make an impact as a private citizen, and I've always believed that if you think you can make a difference, you have an obligation to at least try. Together with our partners and supporters, we've accomplished far more than I ever imagined would be possible, and my work with the Clinton Foundation has turned out to be one of the most fulfilling endeavors of my life.
Since the Foundation first opened our doors in Harlem in 2001, we've worked to fill the gaps between what the public sector can provide and the private sector can produce, while figuring out how to solve problems faster, better, and at lower cost. Almost always, the best way to do that has been by bringing together diverse partners with different sets of skills, experiences, resources, and perspectives, in what I like to call networks of creative cooperation.
With partnership as our guiding principle, we've launched programs that have now helped more than 21 million people around the world access life-saving HIV/AIDS treatment; created healthier learning environments for more than 30 million children in the U.S. who are eating better and moving more; built a community of change-makers through the Clinton Global Initiative (CGI) whose Commitments to Action have improved the lives of more than 430 million people in 180 countries; and much more.
Along the way, we've constantly evaluated and re-evaluated our programs to figure out what approaches work best. In 2020, we relied on all these lessons to confront unprecedented challenges.
As America and the world experienced a pandemic, an economic crisis, a long overdue reckoning with systemic racism, the most active Atlantic hurricane season on record, and a complete upheaval in the ways we live, work, and interact with one another, the Foundation quickly expanded and adapted our programs to address the public health, societal, and economic impacts.
Together with our partners, we distributed nutritious meals to people in Central Arkansas who would otherwise go hungry; provided resources to parents and caregivers so that their young children could learn and grow at home; supported those with substance use disorders as they coped with the additional challenges of living through a pandemic; worked with faith and community leaders to combat vaccine hesitancy; and launched a new effort to advance an inclusive economic recovery for underserved communities across the U.S.
We also continued our longstanding work around the globe while adapting to rapidly changing conditions, including improving disaster preparedness and resilience in the Caribbean; providing smallholder farmers in Africa with information and resources to protect themselves in the pandemic while pursuing their livelihoods; and empowering student leaders to take action on the effects of COVID-19 in their communities.
Over the last two decades, but especially over the last year, we've heard the same thing over and over from our partners: that the Clinton Foundation has a unique ability to bring people together to make a difference. That's why, as we look ahead to the Foundation's next 20 years, we're sharpening our focus on partnership-building across all our programs. Here's what that will look like.
Given the effectiveness of the CGI model, we will be building out a more robust program centered on developing diverse partnerships. This will allow us to both sustain our existing efforts and increase our ability to address urgent challenges as they arise. This work has already begun in our efforts around climate change, public health, disaster preparedness and response, and inclusive economic recovery, and we will continue innovating within the CGI model to drive progress and elevate the voices of change-makers.
We're also building on the successful partnership models of our initiatives, including:
The Alliance for a Healthier Generation, our partnership with the American Heart Association, which works with schools, youth-serving organizations, and businesses to help kids to develop lifelong healthy habits.
The Clinton Development Initiative, which connects smallholder farmers in Africa with larger networks, suppliers, and sellers to improve their yields and incomes;
The Opioid Response Network, which works with partners to distribute free doses of lifesaving naloxone to recovery residences, and to build a national network of interfaith leaders focused on preventing, treating, and advancing recovery from substance use disorders;
Too Small to Fail, our early learning and literacy program that has formed innovative partnerships with laundromats, diaper banks, and pediatricians to meet parents where they are and create language-rich moments in everyday life;
Additionally, we'll be enhancing our focus on our work to develop the next generation of leaders:
CGI University, our program for undergraduate and graduate students that has helped more than 11,000 young leaders turn their ideas into action;
The Clinton Presidential Center in Little Rock, which offers a wide range of cultural and educational programming;
The Presidential Leadership Scholars, a partnership with three other presidential centers that brings leaders together from diverse personal and professional backgrounds to make a difference in the U.S. and around the world;
The WIRE Network, which supports emerging female leaders in the renewable energy sector.
By building on the Foundation's greatest strengths, we can continue addressing the most urgent challenges of today while remaining flexible to solve the problems and seize the opportunities of tomorrow.
As we finally begin to come out on the other side of a long, dark year, we all need to remind ourselves that our collective work is only just beginning. The pandemic revealed not only how much we need each other but also how far we still have to go to build a world where we are all truly seen, heard, and valued.
We at the Clinton Foundation are energized to be a part of that effort today, tomorrow, and for the next 20 years and beyond. And we are deeply grateful to you for being a part of it, too.


Bill Clinton